13 Night New Zealand Cruise from Melbourne
Ship: Dawn Princess
Cruise Line: Princess Cruises
Departs: Melbourne, Australia Returns: Melbourne, Australia
Sails: Tuesday, Feb 24, 2015 Ends: Monday, Mar 9, 2015
Inside
Oceanview
Balcony
Suite

from

$1,799

pp

from

$2,299

pp

from

$2,899

pp

from

$5,299

pp
Day by Day Summary and Map
Itinerary Map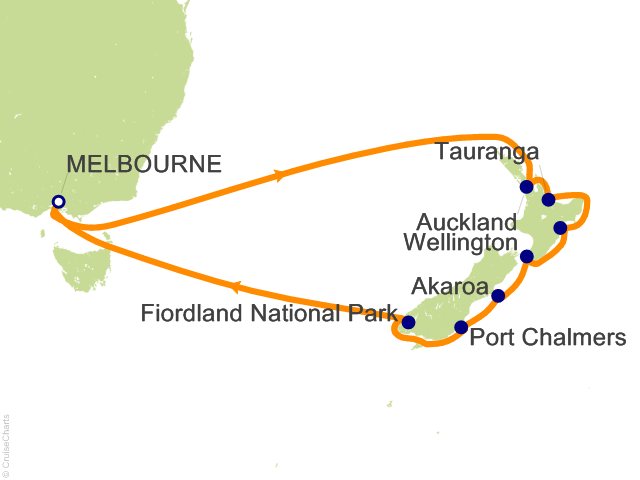 Day 1 - Tuesday - Feb 24, 2015
| | | |
| --- | --- | --- |
| Melbourne, Australia | | Depart: 4:00 pm |
Day 2 - Wednesday - Feb 25, 2015
Day 3 - Thursday - Feb 26, 2015
Day 4 - Friday - Feb 27, 2015
Day 5 - Saturday - Feb 28, 2015
| | | |
| --- | --- | --- |
| Auckland, New Zealand | Arrive: 10:00 am | Depart: 8:00 pm |
Day 6 - Sunday - Mar 1, 2015
| | | |
| --- | --- | --- |
| Tauranga, New Zealand | Arrive: 7:00 am | Depart: 6:00 pm |
Day 7 - Monday - Mar 2, 2015
| | | |
| --- | --- | --- |
| Napier, New Zealand | Arrive: 12:00 pm | Depart: 7:00 pm |
Day 8 - Tuesday - Mar 3, 2015
| | | |
| --- | --- | --- |
| Wellington, New Zealand | Arrive: 8:00 am | Depart: 6:00 pm |
Day 9 - Wednesday - Mar 4, 2015
| | | |
| --- | --- | --- |
| Akaroa, New Zealand | Arrive: 8:00 am | Depart: 6:00 pm |
Day 10 - Thursday - Mar 5, 2015
| | | |
| --- | --- | --- |
| Port Chalmers, New Zealand | Arrive: 8:00 am | Depart: 6:00 pm |
Day 11 - Friday - Mar 6, 2015
| | | |
| --- | --- | --- |
| Cruising Fjordland National Park, New Zealand | Arrive: 8:00 am | Depart: 5:00 pm |
Day 12 - Saturday - Mar 7, 2015
Day 13 - Sunday - Mar 8, 2015
Day 14 - Monday - Mar 9, 2015
| | | |
| --- | --- | --- |
| Melbourne, Australia | Arrive: 7:00 am | |
How To Book This Cruise
Get A Quote

Just complete this short quote form and one of our agents will get you a quote right away.

Call 1-800-543-1915

Expert travel agents are ready to assist you. Please reference Cruise Number CN-526302.

Book Online

Fast, Safe, Secure and we accept all major credit cards. Click here to book online.